INDIAN HEAD MASSAGE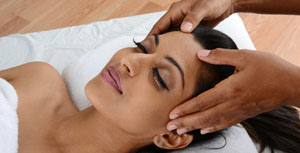 Course Dates: Sunday, December 18th, 2022
Sunday, February 5th, 2023.
Cost: $350.00
Duration: One day workshop from 10am to 4pm.
Introduction: This amazing much loved massage of the scalp/head, neck shoulders and back which is similar to seated chair massage has gained popularity across the globe in the last decade. Clients can sit on a chair fully clothed to receive this massage anywhere: in offices, in salons, in spas and health clinics. It makes a great addition to your current holistic practice.
Course Description: Students will learn two versions of Indian Head Massage: sitting on a chair or laying on a massage table.