CANINE MASSAGE THERAPY-Certificate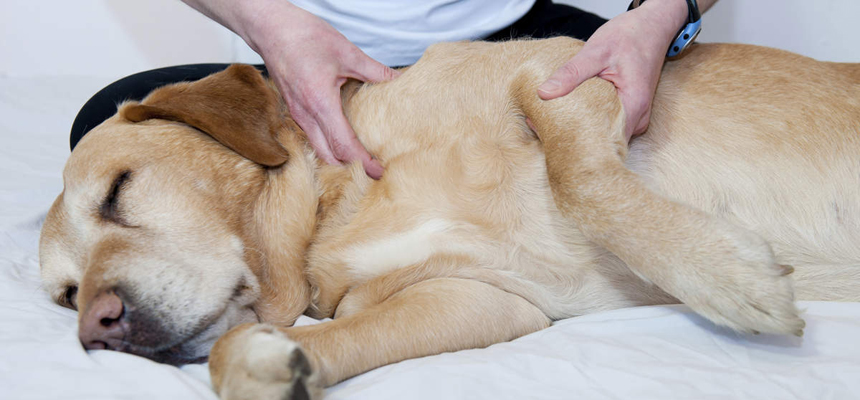 Course Dates:
Canine Massage is a 4 Day Instensive course offered 3 times this year; February, April, and September
Saturday, September 7th, Sunday, September 8th, Saturday, September 14th and Sunday, September 15th, 2019.
Saturday, November 23rd, Sunday November 24th, Saturday, December 7th and Sunday, December 8th, 2019.
Cost: $1495.00 for each level. $250.00 deposit required upon registering.
Text Required: (Available at Chapters)
Canine Massage - A Complete Manual Reference, by Jean-Pierre Hourdebaigt
Dog Anatomy - A Coloring Atlas, by Kainer & McCracken
Duration: From 9am to 5:30pm
Location: Royal Canadian College of Massage Therapy, 220 Lesmill Road
Introduction: Dogs are cherished members of our family and pet parents have become increasingly interested in using holistic therapies, such as Canine Massage to complement Veterinary care for treating common injuries and conditions. Massage can be used as part of an overall prevention, wellness and fitness strategy, or to help your dog recover from a particular illness or injury and has its place in all stages of a dogs' life.
Course Description: Canine Massage Therapy Level I is suitable for dog owners and dog lovers who have either no massage experience or knowledge of anatomy, or have a basic knowledge and skill set. You will be certified to practice Canine Massage Therapy in Ontario only, or simply equip you with lifelong skills to increase the health and wellbeing of your dog. This course is a prerequisite for our more advanced Level II Canine Massage Therapy Course, for those interested in further studies but not necessary to practice.
The Canine Massage Therapy Level I allows participants to learn such topics as the general principles of massage, basic techniques, benefits of massage, basic animal anatomy and physiology, behavioural issues and common pathologies.