THAI STEM
MASSAGE CERTIFICATION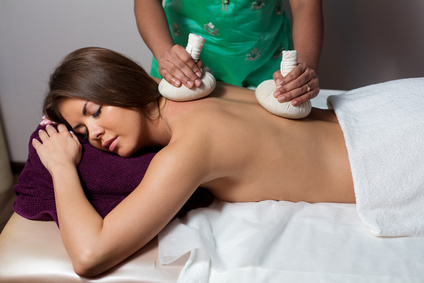 Course Dates: Saturday, September 29th, 2018. & Saturday, December 15th, 2018.
Cost: $250.00
Duration: One day, 10:00am-5:00pm
Location: Royal Canadian College of Massage Therapy, 220 Lesmill Road
CEU Credits: 3.5 credits
Introduction: This luxurious massage therapy started in Thailand where herbs were tied in unbleached cloth, tied into a ball and held together with string, creating the stem which you hold while rolling or pummeling the warmed herbal bags along the back, arms, legs and feet. The bags are constantly steamed throughout the treatment, and the heat combined with a few essential oils helps with pain and inflammation. The warm steamed bags are also effective on aching muscles and joints, and are soothing to both the mind and body.
Course Description: Participants will learn how to make Thai stem bags and use them safely for massage. They will also learn how to use the bags in combination with essential oils and glycerin.