Holistic Practitioner's Certificate and Ayurvedic Medicine Diploma Courses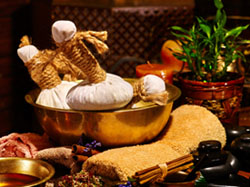 Cost: $5075.00, with a 10% discount if all courses are taken together.
Introduction: Holistic care is an increasingly popular form of healing that considers the whole person – body, mind and spirit. According to the holistic care philosophy, one can achieve optimal health by gaining proper balance in life.
Course Description: Upon successful completion of the five modules of this program (Reflexology, Aromatherapy and Aromatherapy Safety, Thai Stem Massage, Hot Stone Massage, Indian Head Massage), students will receive certification as a Holistic Practitioner. Each course can be completed separately or in combination.
Ayurvedic Medicine Diploma
Introduction: Ayurveda is one of the world's oldest medical systems. Its philosophy about health and disease promote the use of herbs, special diets, exercise, lifestyle changes, and other unique health practices. Key concepts include universal interconnectedness, the body's constitution (prakriti) and life forces (dosha).
Course Description: This course is designed for healthcare professionals to enhance and apply ayurvedic principles to their practice. Students will learn how to work in the Traditional Indian System of Life sciences environment. They will also learn about the philosophy of Ayurveda, modern anatomy and physiology, Prakriti-vikruti (Ayurveda Pathophysiology), Comparative medical system review, ayurvedic herbology, herbs and their descriptions in both modern and ayurvedic perspectives, the practice of Clinical Ayurveda, supervised Ayurveda clinics, and Privacy and Confidentiality of the client.
After completion of the course, students will be able to work independently as a Clinical Ayurveda Practitioner or with multidisciplinary clinics and herbal stores. At the end of the course students may get the membership with the Ontario Homeopathic Association as Registered Herbalist (RH).