Aromatherapy-
Professional Certification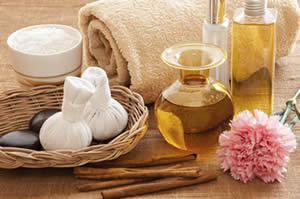 Course Dates: Saturday, May 4th, Sunday, May 5th & Saturday, May 11th and Sunday May 12th, 2019.
Cost: $1600.00
Duration: 2 Full Weekends (Saturday & Sunday) 10:00 am-4:00 pm
Introduction: Aromatherapy is the use of essential oils, which are extracted from parts of herbs and plants. There are many ways to use the oils, with massage being the most popular and effective method to promote healing and a sense of well-being for the client.
Course Description: This course will cover the history of aromatherapy, botanical classifications, applications and use for various conditions, aromatherapy massage, safety and precautions, and contraindications.
Day 1
Introduction to aromatherapy - with student projects and assignments: 1 hour
Amounts to use for bath, massage, room fragrancing, Inhalation and where to use (covers products and skin care): 1 hour
History of aromatherapy (people from countries such as east Indians, Chinese, Egyptians, Hebrews, Greeks, Romans, Arabs and Europeans to modern day: 1 hour
Botanical classification - cultivars/hybrids, fungicides & pesticides: 1 hour
Distilled versus expressed citruses-terpeneless and rectified oils - inhalations and their psychological effects: 1 hour
Aromatherapy massage practice: 1 hour
Day 2
Obscure and dangerous essential oils
Oils inadvisable for application to the skin
Chemistry and stereochemistry, chemistry related to essential oils: 1 hour
Basic chemical compositions of essential oils: 1 hour
Major chemical components finding common denominators: 1 hour
Questions and answers - 1 to 37
Adulteration - methods of production (distillation), rectification, solvent extraction, molecular extraction: 1 hour
Floral waters /hydrosols - general properties, absorption of essential oils: 1 hour
Medicinal application, quality of essential oils, the senses: 1 hour
Aromatherapy massage practice: 1 hour
Day 3
Precautions /accidents with essential oils , accidental excess consumption - contra - indications: 1 hour
Glossary of terms
Carrier or fixed vegetable oils /commonly available fixed oils and waxes: 1 hour
Study of essential oils starting at basil in alphabetical order - countries of origin, parts extracted from, description, compositioncontra-indications of the oil/historical uses and suggested current uses 4 oils: 1hour
Study as above another 4 oils starting at cajuput essential oil ending at German chamomile 1: hour
Starting at roman chamomile study of 4 oils ending at clove essential oil: 1 hour
Starting at coriander e/oil study of 4 oils ending at cypress: 1 hour
Aromatherapy massage: 1 hour
Day 4
Starting with eucalyptus citriodora study of 24 essential oils ending at black pepper: 6 hours
Aromatherapy massage: 1 hour
Day 5
Starting at petitgrain the study of 12 essential oils: 3 hours
Questions and answers 38 - 77: 1 hour
Pregnancy and e/oils - breast feeding and e/oils Babies to teenagers: 1 hour
Aromatherapy massage practice: 1 hour
Day 6
Varied applications of essential oils/ compresses and poultices: 1 hour
Aromatherapy in skin care, normal skin, dry sensitive skin, combination skin, oily skin, acne vulgaris, acne, rosacea, Allergic skin, eczema, prematurely aged skin, very dehydrated skin, mature skin: 2 hours
Inhalation/ olfactory system: 1 hour
Aromatherapy in bath products /body wraps and hair care: 1hour
Aromatherapy massage: 1 hour